The projects on materials, components and technologies for high level of overvoltage and electromagnetic protection lead to perfecting of ZnO varistors, foil and composite EM absorbers and other innovative solutions.

In the scope of the Centre of Excellence, the group develops in collaboration with the partners from industry new foil and composite absorbers of electromagnetic radiation. These are used to protect electronic equipment as well as people from microwave radiation.
In cooperation with partners from industry we are accelerating the development of new and improved materials. New components and technologies for reliable and effective high current, overvoltage and electromagnetic protection are being designed from these materials.
High level of miniaturization and integration with other electrical or rather electronic components provides for special advatage.
Discoveries that inspire new material and technology development are also important for overvoltage protection of solar panels and wind turbines.

Expertise of partners in materials, devices and technologies enables them for development of:
energy varistors with high current stability under dc voltage for overvoltage protection of renewable energy sources such as photovoltaic systems and wind turbine generators;
very thin disc shape gas discharge tubes (GDT) for optimized serial connection with varistors (MOV) into miniaturized GDT/MOV surge protection devices;
synthesis of various ferrite nano and micro powders as fillers for preparation of ferromagnetic composites, tuned for electromagnetic (EM) absorption in the range from 500MHz to 10GHz, either in the form of flexible foils or coating systems (facade putty, wall coating); and
synthesis of magnetic nano-powders for preparation of stable magnetic fluids for applications in biomedicine: enhanced contrast in magnetic tomography, drug delivery, magnetic separation and magnetic hyperthermia (magnetic nanoparticles tuned to a therapeutic Curie temperature for cancer tissue of 43oC).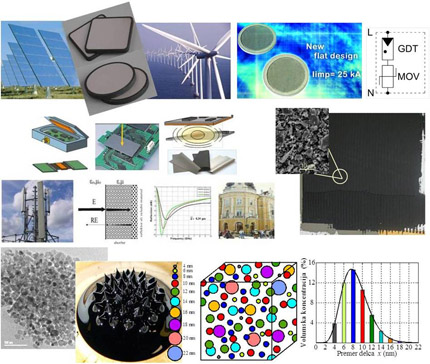 A significant enhancement of Low-doped ZnO-based varistor ceramics energy performance can be obtained and the reduced use of oxides of Bi, Sb, Co, Mn and Ni brings a cost benefit, together with ecological benefits.

Transparent-conductive ZnO films could be used as possible replacements for expensive ITO (In-Sn-O) in technologies of transparent-conductive films (TCF) for flat-screen displays, photovoltaic (PV) panels and LEDs.

Ferrite powders and their composites can be used as EM absorbers, covering the range from 500 kHz to 30 GHz, and in IR range as coating for solar cells. MnZn-ferrite is also interesting as a pigment in the glass industry, while the application of plate-like hematite include corrosion protection, sealing, damping, heat transfer, separation and sensors.

Hard-magnetic Nd-Fe-B alloys and magnetic composites are important for the automotive industry, in various rotor applications for sensors, fuel pumps, analogue instruments, actuators and drives; as well as in power tools and home appliances.

Low-energy magnetic refrigeration based on magnetocalorics can revolutionize cool technology by replacing conventional compressor systems.